Vegetation Management
Vegetation Management includes weed control solutions for railroads, utility substations and roadsides, among others.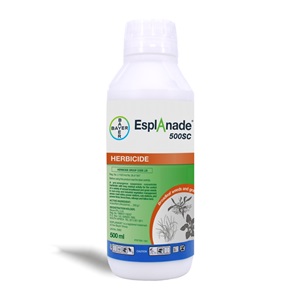 Herbicide
Esplanade 500SC
Suspension Concentrate
The ultimate pre-emergent herbicide for a broad spectrum of...
See product
Where to buy
DSV
DSV is our logistic partner for account customers only. Please contact your local Technical Sales Specialist (below) for any product or technical related enquiry as well as for an extended list of Cash Sale outlets.

LOGISTICS PARTNER

- Accounts
- Orders
- Stock
- Deliver


DSV is a global logistics company found in over 60 countries around the world. They utilize every mode of transportation and offer a full range of services, right to your doorstep. DSV delivers with passion, agility and aspire to provide service excellence.

Opening of Accounts:
Tel: 0860 000 443 - Option 4
Fax: (010) 248 0786
Email: ZA.HealthcareCreditControlPrivate@ZA.DSV.COM

Orders / Deliveries
Tel: (010) 248 0792
Fax: 0860 000 443
Email: ZA.S.Environmentals@za.dsv.com

Telephone:

see above for either accounts or orders
Sales team: Andries Lottering
Technical Sales Specialist



Areas: Gauteng West & South, Free-State, North-West, Northern Cape, Botswana, Rustenburg and Thabazimbi

Telephone:

+27 (0) 82 815 4847
Sales team: Henry Gray
Technical Sales Specialist

Areas: Western Cape, Southern Cape, Eastern Cape, Central KwaZulu Natal

Telephone:

+27 (0) 82 616 2737
Sales team: Roelf Du Toit
Technical Sales Specialist

Areas: Pretoria, Midrand, East Rand of Jhb, Limpopo, Mpumalanga, KwaZulu Natal Inland area (incl. New Castle and Richards Bay)

Telephone:

+27 (0) 60 997 7862
Learn from experts. Free courses avail.
Innovative Online Training Available 24/7. Content optimized for mobile devices.
Open Amplify Website